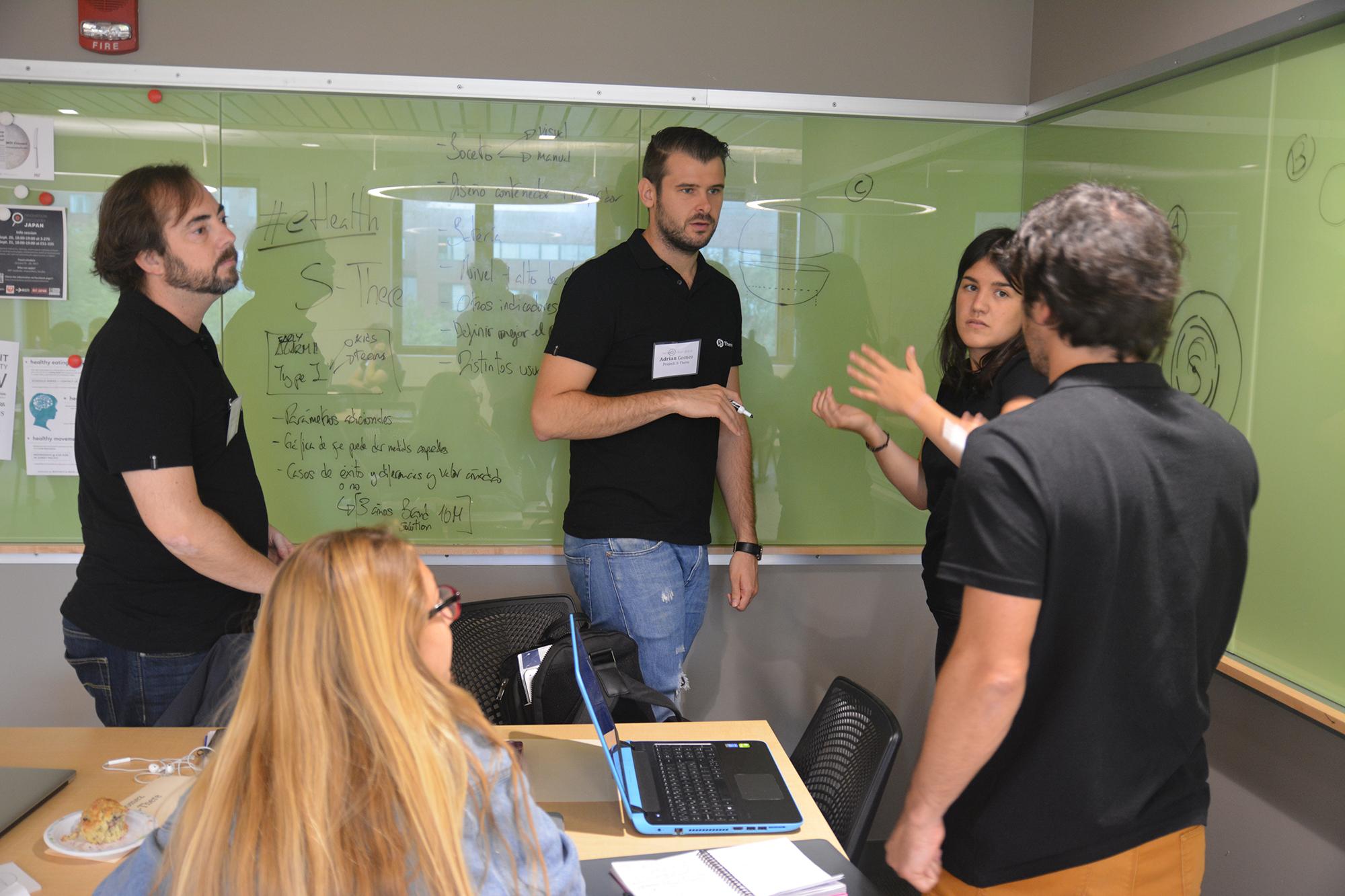 The 2016 cohort of teams covered medical areas as diverse as tissue engineering to regenerate cartilage and big data analysis to prevent medial errors. After their final presentations on January 31, 2017, each of the teams were recognized for their remarkable progress, and four were named Awardees for special achievement. Read about the final presentations and awardees
Autologous Microspheres for Articular Cartilage Regeneration
We have developed a new method for the regeneration of articular cartilage using tissue engineering, for the treatment of focal lesions due to trauma in young patients, which only needs patient's blood extraction and surgery by arthroscopy with the implantation of a new biomaterial. Our advantages are that the therapy is minimally invasive, doesn't need cellular manipulation outside the body, the product adapts to the shape of the defect and offers a mechanical environment appropriate to local cells to differentiate to the chondral
phenotype.
Team: Gloria Gallego-Ferrer, Biomaterials Engineering; JL Gomez-Ribelles, Biomaterials Engineering; Maria Sancho-Tello Valls, histolopathology; Carmen Carda, Histopathology; Pedro Fernandez, Project Manager; José Antonio Gómez Tejedor, Biomaterials Engineering, Manuel Mata Roig, Histopathology and Tissue Engineering; Luis Gómez Estrada, Engineering/Chief Executive Officer; José Javier Martín de Llano, Cellular Biology
Dura Lock (Anclaje Dural Reabsorbible)
Cerebrospinal fluid leak after a human dura mater puncture can lead to a terrible headache in obstetric patients. This situation can last for weeks and has an important economic impact. We have developed an elastic graft that will help prevent the fluid leak after placement in the inner cerebrospinal fluid.
Team: Carles Garcia Vitoria, Anaesthesiology, Pain Medicine
SuraMedical (2016 Grand Hack Team)
We propose a wearable device that would be able to continuously monitor patient compliance with ambulation and leg elevation, and continuously monitor for changes in the pressure exerted by the multilayer compression wrap placed for treatment.
Team: Noah Rosen, Vascular Surgeon/Complex Wound Surgeon; Jonathan Engel, Medical Device Engineer; Terry Gao, Medical Student
Aortyx
We are developing a biodegradable, bioadhesive patch to repair aortic dissections via endovascular therapy. This patch should promote endothelial proliferation on one side and false lumen thrombosis on the other. The patch should be reabsorbed within two years.
Team: Jordi Martorell, Vascular Biology; Salvador Borrós, Biomaterials; Adam Groothuis, Vascular Surgery; Vincent Riambau, Medical Device Design; Vipul Chitalia, Molecular Biology
Scoli-Pro
Idiopathic scoliosis (IS) is a spine deformity affecting more than 17 million patients in EU and USA with a prevalence of 2-3% of adolescents worldwide. One out of ten of the patients progress into severe cases developing physical disabilities and requiring costly treatment. Current diagnostic procedure is unable to identify high-risk patients and provides limited medical criteria for disease prevention. Scoli-Pro is a novel prognostic kit, based on epigenetic biomarkers (blood circulating miRNAs), that evaluates the molecular causes of IS and provides a precise risk profile to improve medical decisions. Scoli-Pro helps to guide treatments and provides a new procedure for disease monitoring, avoiding repetitive X-ray explorations.
Team: Dayme González Rodríguez, Bioinformatics; Lorena Peiró Chova; Biobanking and SOPs; Federico V. Pallardó Calatayud, Epigenetics and Physiology; Teresa Bas Hermida, Idiopathic Scoliosis Specialist; José Carlos Monforte Albalat, Business Development; Salvador Mena Mollá, Kit Design and Technical Issues; José Luis García Gimenez, Epigenetic Biomarkers
fProbes / Microregistro Transcordial en Humano
We have developed a tool for neuroscience research: a microprobe that will allow monitoring and interacting with the human brain during any brain surgery, and specifically with brain damaged individuals, causing no new damage to the brain and surpassing today solutions.
Team: Juan Berganza, Business Development; José Luis Fernández Torre, Clinical Neurophysiology; Liset Menendez de la Prida, International Expert in Neurosciences; Ane Altuna, Medical Device Design; Luis Fernandez, Medical Device Manufacturing; Daniel Gómez, Expert in Multi-electrode Recordings; Miguel A. Hernández, Intensive Care Medicine; Borja Barredo, CEO – Business Development
ICU Rehab / Plataforma de estimulación neurocognitiva para pacientes ingresados / ENRIC
We are developing a system that enables cognitive intervention during Intensive Care Unit (ICU) stay. This system includes neurocognitive stimulation software with different exercises that can be performed from the patient's bed through Kinect technology. This platform includes automatic recording that allows comparing cognitive rehabilitation session data with the vital signs on each patient at anytime, ensuring the stability of the patient and assessing their recovery process.
Team: Sol Fernández Gonzalo, Neuropsychology, Research; Marc Turón Viñas, Neuropsychology, Research; Sonia Touriño Eirin, Innovation and Technology Transfer; Luis Blanch, Intensive Care, Clinical care
Assistant for Image-guided Interventions
There appears to be no device with the capability to guide a biopsy only by Positron Emission Tomography (PET) image. Our kit consists of a needle and a frame with a set of external markers. Customized software virtualizes the path of the needle in the patient, allowing for extraction of tumor samples with a precision of the order of few millimeters. It can also be applied to conventional CT-guided biopsy, making the procedure more accurate and precise, and decreasing complications in the patient.
Team: Gaspar Sanchez Merino, Medical Physicist; Jesus Cortés Rodicio, Medical Physicist; Ignacio Tobalina Larrea, Nuclear Medicine; Mª Ángeles García Fidalgo, Medical Physicist
MRI Gel Radioisotpe Medical Imaging System
Medical images aim to give the more information available in the lowest spatial resolution. This can be achieved by combination of anatomical images (given by MRI) and functional information (given by radiopharmaceuticals). The aim of this proposal is to design a gamma-gel detector, compatible with different MRI devices, so that, the gel detector would act as a common gamma camera inserted in a MRI device, and thus images acquired by the same MRI technique.
Team: Luis Agulles Pedrós, MRI; Andrea Abril Fajardo, Radiation physics
My Health Decision Tree (2016 Hacking Chronic Disease, Bilbao)
We are developing a tool that translates clinical information provided at the point of care into an understandable format, available to patients with at least one chronic condition, so they can refer to the information at any point after the clinical visit.
Team: Sage Shaw, Business; Germán González Serrano, Biomedical Engineer; Bianca Usoz Oyarzabal, MD, Primary Clinical Care; Juan López-Rodríguez, MD, Primary Clinical Care; Nuria Zúñiga Serrano, Patient advocacy
NearMiss Health
We are interested in capturing the precursors to preventable medical error at scale, using proven frameworks developed by US commercial and military aviation and leveraging emerging natural language processing technology.
Team: Alex Rich, Military Aviation Safety, Operations, Management; Wendie Bao, Project Management, Software Development; Cooper, Back-end Software Development, Venture Capital; Danielle Kim, Hospital Administration, Statistics; Jean Zheng, Operations, User Experience Design, Medical Devices; Nalini Singh, Biomedical Signal Processing; Andrea Li, Mobile development; Anish Athalye, Machine Learning
SmartClot
We are developing a point of care blood coagulation monitor that will enable anticoagulation therapy in the low-resource setting.
Team: Shriya Srinivasan, Medical Device Design; Mohamad Najia, Medial Device Design; Rachel Rosovsky, Hematology, Clinical care; Aparna Ramanathan, Global Health, Clinical Care
S-There (2016 Hacking Chronic Disease, Bilbao)
How does your hydration affect the rest of your day? Whether you want to run farther, work harder, or just feel better, good hydration can help you. What if you can make every day a great hydration day? Meet S-There, the insightful hydration system that helps you improve your hydration and improve the way you feel. Get a detailed breakdown of your hydration, learn how your environment affects your hydration, discover trends in your hydration quality, and more. Drink better, live better.
Helping toilets become smart-devices.
Team: Adrian Gomez Campos, Research/Clinical Care; Amaia Garcia Fernandez, Business Developer; Manuel Escobar Gomez, Computer Engineer; Eider Zabaleta Lopez, Chemist; Gorka Zabaleta Lopez, Electronic Engineer
Echo Diagnostics (2016 Grand Hack Team)
We envision a cushioned medical device in which an ultrasound transducer sweeps across the surface of the neck, records the images, and detects features in lymph nodes that predict cancer recurrence. We believe that a home- or hospital-based autonomous neck ultrasound device can increase the reproducibility and frequency of cancer recurrence monitoring, decrease the cost of imaging, and lead to better outcomes through earlier detection of cancer recurrence.
Team: Abigail Schiff, Clinical Research / Care; Alex Krull, Medical Device Design; Margaux Duchamp, Biomedical Engineering; Ryan Smith, Biomedical Engineering