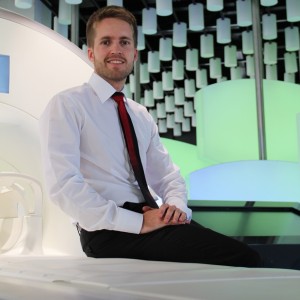 Isaac Castro, with team member Ignacio Navarro Arrate, was in the 2012 cohort of IDEA² Madrid with their project AdapTable. AdapTable is a patient table designed to ensure a precise, rapid, reproducible, comfortable and cost saving positioning for radiation therapy. By means of a moldable surface, it saves the exact shape of every patient and remembers it for each radiotherapy session.
"We expect IDEA² Madrid will help us to find investors and funding, contact top-tier research institutions, prestigious healthcare centers and international manufacturing companies, and provide us with effective communication channels," Mr Castro said.
Success after IDEA²
Mr. Castro's biomedical technology innovations have been recognized by M+Visión, MIT EmTech, and by the Word Economic Forum, which named him a 2014 "Global Shaper." Global Shapers is a network of exceptional young leaders chosen for their achievements and their drive to make a difference in the lives of those around them through collaboration. City-based "Hubs" undertake local projects to improve the community and help Shapers to easily communicate with one another. Currently Isaac is involved with projects from three hubs, although Bogotá remains his main hub.
In 2015, Mr. Castro cofounded Emerge, a company that develops a new form of communication by digitizing our sense of touch. He is the  Chief Technology Officer.
What experiences prepared you the best for this type of experience?
My experience with IDEA² Madrid helped me a lot. They put me closer to investors and many international mentors, which helped to give me an attractive profile. If they see that you have the ability to create something disruptive and to impact people's lives through your actions, this is what they are looking for.
What is the biggest challenge that young technology entrepreneurs face today?
There are two main challenges now. First is how to keep up with the development of new technologies. As Steve Jobs used to say, connect all the points quickly and be adaptable. This will help you to keep pace with the continuous movement of technology advancements. Second is that there are many competitors now and with social media there are many ideas rising. So how to be remarkable would be my second challenge. How do I stand out from all this noise?
My advice for young entrepreneurs is the following:
1. You have to be the biggest believer of your idea.
2. Be passionate of what you are doing. To fail is something that will happen. It is part of the game. When these failures appear you need to have passion so that you can overcome these setbacks. You will fall down and not get up without passion.
3. Look for mentors. You can be born with talent, but expertise comes with years of hard work. Mentors can help with this.
4. Be adaptable. There will be circumstances that change within your project and you have to adapt your idea to these potential changes.
5. These words work for me and energize me: there are a lot of competitors, that's a fact. But there are a lot of new opportunities that are being created with the fast movement of technology. Most of the products that will be commercialized in 10 years do not exist yet. This opens a huge number of doors. You have all your future right now to create new things.