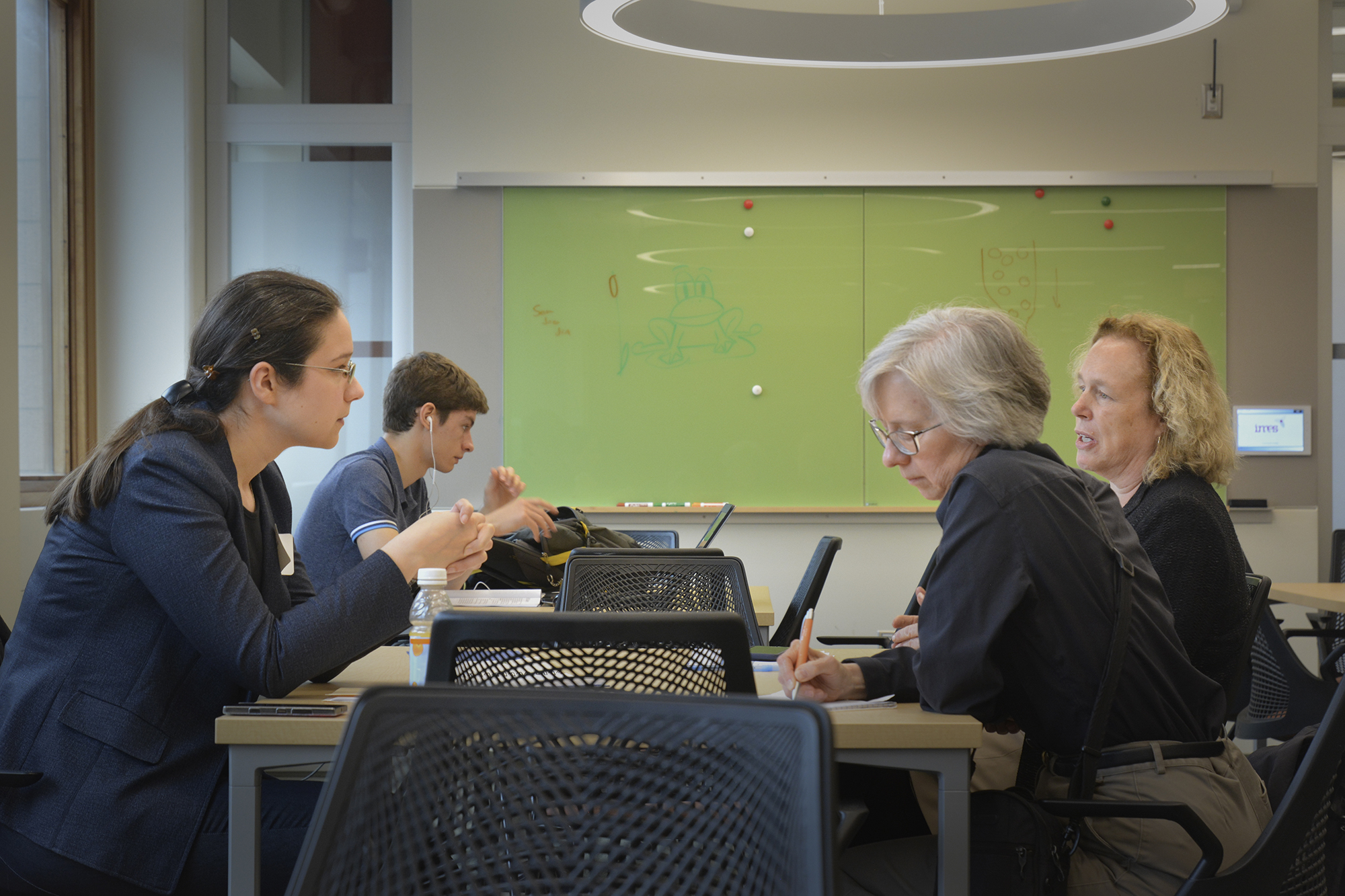 Proposals to IDEA² Global were invited from anywhere in the world, and many were prequalified by the program's partners. These partners, other organizations dedicated to fostering biomedical technology innovation, include Fundación para la Innovación y la Prospectiva en Salud en España (FIPSE, a Spain-based nonprofit dedicated to advancing new healthcare technologies), the MIT Institute for Medical Engineering and Science (IMES), the Medicine Innovation Program at Massachusetts General Hospital, PDS (a US-based IT services and innovation company), and MIT Hacking Medicine.
2017 Teams
Diagnosing tuberculosis by means metabolomics techniques
Tuberculosis (TB) is a major infectious diseases of high impact in public health. Mycobacterium tuberculosis kills more people than any other infectious pathogens. The conventional methods for diagnosing TB have limitations for an effective control of the disease. Our group has identified a specific urinary metabolite-signature that detects patients with TB and at the same time, could monitor the effect of the regimen prescribed.
Team: José Domínguez, Jesús Ruiz-Cabello, José Luis Izquierdo, Irene Latorre, Raquel Villar-Hernández, Cristina Prat, Ramón Campos, Núria Martí, Cristina Broceño
Medical devices in Anesthesiology and Critical Care
In clinical practice there are many therapeutic and diagnostic interventions that require the introduction of different instruments through the oral cavity to access the digestive tract and the lower airway of patients, who are under sedation or general anesthesia. These interventions include upper digestive endoscopies, fiber optic bronchoscopies, transesophageal echocardiography, otorhinolaryngology and maxillofacial surgeries, and tracheal intubation. Current tracheal intubation devices are mainly focused on medical instruments protection, and less on patient protection, though these procedures can be difficult to perform, risking injuries, airway obstruction, and complications. We have designed a new tracheal intubation device that protects both patients and medical instruments, avoids airway obstruction, and facilitates tracheal intubation.
Team: Guillermo Rodriguez Bernal, Javier Casanova
iSOL: Recombinant protein for the diagnosis and treatment of Multiple Sclerosis
Our project proposal includes the clinical implementation of a tool to detect a serum biomarker contributing to multiple sclerosis diagnosis, and the use of a recombinant protein (rh-iSOL) as a potential therapy for MS, since it has been shown to have immunomodulatory, antiproliferative and antiviral activity.
Team: Principal Investigator: Begoña Oliver Martos, PhD. Collaborators: Óscar Fernández, MD, PhD, Laura Leyva Fernández MD, PhD, Mª Jesús Pinto Medel, PhD, Patricia Urbaneja Romero, MD
Corneal stroma fabrication
Corneal diseases are one of the main causes of vision loss, behind only cataracts, and they affect more than 10 million people worldwide. Ocular trauma and corneal ulceration due to infection are major causes of corneal blindness. Standard treatment for all these conditions consists of a corneal transplant from a human donor, but worldwide demand for donor corneas far exceeds available supply. Our goal is to create a human-like corneal stroma. To achieve this aim, we will explore different methodologies to synthesize a polymeric extracellular matrix of collagen together with 3D printing of mesenchymal stem cells over such matrix imitating the human cornea.
Maria P De Miguel, Francisco Arnalich-Montiel, Manuel Nistal, Javier Regadera, Pilar Gonzalez-Peramato, Diana Martin, Adrian Moratilla, Verónica Aparicio, Anisia Martínez, Victor Paleo, Andrea Santos
CEMARK, a molecular tool to diagnose endometrial cancer
CEMARK is a tool based on the assessment of protein biomarkers in the fluid of pipelle biopsies (liquid biopsy of the female genital tract) to diagnose and preoperative stage endometrial cancer. This diagnostic kit is more efficient and accurate than current diagnostic procedures.
Team: Dr. Eva Colas, Dr. Antonio Gil Moreno, Dr. Silvia Cabrera, Elena Martinez Garcia, Carlos Lopez Gil
HistShock: septic shock diagnosis and prognosis using mass spectrometry-based detection of circulating histones
HistShock combines the sensitivity of an analytical method, mass spectrometry, with the specificity of molecular blood biomarkers, extracellular histones, into a novel strategy to analyze and predict septic shock outcome.
Team: Jesús Beltrán García (MSc), Nieves Carbonell Monleón (MD, PhD) Pedro Fernández Nohales (PhD), Jose Ferrerres Franco (MD, PhD), José Luis García Giménez (PhD), Eva Maria García López (PhD), Federico V. Pallardó Calatayud (MD, PhD) Carlos Romá Mateo (PhD)
SoundClue
Communication is a major issue for people with Autism Spectrum Disorder (ASD) and their caregivers. Changing from one activity to another can trigger stressful situations.Several studies have described how music abilities are frequently preserved or enhanced in people with ASD, and how auditory stimuli processing is faster than visual at a neurological level. With our app "SoundClue" we aim to provide caregivers with a communication tool based on the use of music/sound that will help people with ASD anticipate and conduct their daily life activities. We believe this will have a positive impact in their autonomy and quality of life.
Team: Fátima Pérez Robledo, Álvaro Martínez Martínez, Azucena Arévalo Navas, Daniel Cuadrado Sánchez
Wave Biomedics
The goal of Wave Biomedics is to provide safe and sustainable rehabilitation products that help people to have a comfortable and efficient recovery, exceeding quality experience and service at a competitive cost.
Team: Edgar Ledezma, Mauricio Cruz
B cell immunotherapy for central nervous system injury
We propose to develop a novel cell-based immunotherapy for the acute and chronic treatment of central nervous system injuries. Based on preliminary data, our proposed cell therapy is expected to have multiple, pleiotropic effects in limiting inflammation after injury and promoting a permissive environment for neuroregeneration. Moreover, because of the easily-accessible nature of the target cells – which can be isolated from peripheral blood – an autologous, minimally-invasive treatment will be relatively straightforward to translate into a clinical setting.
Team: Ruxandra F. Sirbulescu, Ph.D., Ann E. Sluder, Ph.D., Timothy Brauns, MBA
Sustainable Germicidal UV (GUV): Upper-Room Air Disinfection in Resource-Limited Settings
Tuberculosis (TB) is the leading infectious cause of death globally. Transmission is driving the global TB epidemic in congregate settings such as overcrowded, poorly ventilated hospitals and prisons. We aim to test the efficacy and safety of Eggcrate upper-room GUV and LED GUV, two novel methods for air disinfection.
Team: Philip Lederer, M.D., Ed Nardell, Richard Vincent, Tshwarelo Mathebula, Nachiket Vaze, Tobias Van Reenen
Statu/s: A novel handheld device for noninvasive assessment of jugular vein pressure
Assessment of intravascular volume (IVV) status remains challenging. Estimation of jugular venous pressure (JVP), the most commonly accepted and used method for bedside assessment of IVV, is highly user-dependent, semi-quantitative at best, and often inaccurate. We have developed a handheld device for rapid and accurate bedside assessment of JVP by physicians for real-time clinical decision-making. The device uses a novel ultrasound based technology coupled with mechanical force transduction to measure the pressure in the internal jugular vein.
Team: Maulik Majmudar, Alex Jaffe, Robin Singh
VAAS: Vision and audition aid system for schizoid patients
VAAS is a technology conceived to help schizofrenic and other schizoid disease patients in hypothetical therapeutic treatments, helping them to distinguish between hallucinations and reality, in the vision and audition fields.
Team: Norberto Zurita
Biologics on demand
Rare diseases affect an estimated 350M people worldwide and the biologics, or drugs produced in living organisms, used to treat them are expected to generate $150B in sales in 2022. The development of the manufacturing process for these biologics is sub-optimal in both cost and speed to market. We propose deployment of a modular, small-scale, fully integrated and automated biomanufacturing system which would reduce both cost of goods and time to market for orphan drugs.
Team: Joseph Brady; Siddharth Nagarkatti, PhD; Kaitlin Olsen; ML Ujwal, PhD
MemoRoom
MemoRoom is a VR+AI-based treatment for Alzheimer's patients. Our method is based upon a new breakthrough in Alzheimer's research and leverages artificial intelligence and virtual/augmented reality in novel ways to provide an effective, affordable and comfortable solution for the patients in need.
Team: Milad Eyvazi Hesar, Neo Mohsenvand, Vanesa Fernandez, Mina Soltangheys
Take Me There
Take Me There (TMT) assists memory loss patients in getting back to their homes or safety places where they can be picked up by caregivers. By using mobile apps and Connected IoT, TMT assists caregivers by sending alerts on patient location and manage settings like Geo Fence Radius and Return Time settings etc, thus enabling support without physical presence. TMT is one of the modules of PerCare Platform which aims to empowering patients, lessening the burden of caregivers.
Team: Prottusha Sarkar, Ratna Dinakar, Chrystal Chan, Jane Shan, Hanwen Zhang